This year has been busy for creative technology, with the demand for interactive entertainment soaring across video games, animation, visual effects and mixed reality. Here at DigiBC, we have also been busier than ever!
During 2021, we celebrated the publication of our first-of-its-kind study, Benchmarking the Creative Technology Ecosystem in British Columbia, which was produced over 18 months in partnership with the Information and Communications Technology Council (ICTC) and BC's Ministry of Advanced Education and Skills Training (AEST). With the active participation of our member companies along with post-secondary programs, the study yielded important recommendations to ensure the future growth of creative technology in the province. As a consequence, DigiBC revamped its strategy to be laser-focused on three pillars for the sector: Securing Job Growth, Expanding the Talent Pipeline and Increasing Equity, Diversity & Inclusion (EDI).
With this renewed focus, we established an Education Steering Committee and an EDI Steering Committee. We also continued to work closely with federal and provincial government partners, advocating for the creative technology sector on topics ranging from tax incentives and immigration to the impacts of the COVID-19 pandemic. Further details on what we were able to accomplish over the last 12 months within each of these pillars can be read in the summary below.
In closing, we encourage you, if you're reading this and are not already a DigiBC member or you have let your membership lapse, to sign up or renew. Together we are stronger, so join us as we continue to grow and ensure a healthy future in the province for this fabulous sector.

Sincerely,
~ The DigiBC Team


Over the course of 2021, DigiBC continued to work closely with government partners as the voice of the creative technology industry. Our work included specific programs to measure the impact of the COVID-19 pandemic, along with plans for industry recovery and rebuilding post-crisis. We also had ongoing consultations with the government to ensure the continuation of the IDMTC, which is up for renewal in 2023.

►2022 Provincial Budget Consultations
DigiBC presented in-person to Chair MLA Janet Routledge (NDP), Deputy Chair Ben Stewart (Liberal Party), MLAs and committee members.



►Canadian Interactive Alliance / L 'Alliance Interactive Canadienne (CIAIC)
DigiBC is a member of the CIAIC, which is a not-for-profit trade association that serves as the voice of Canada's interactive digital media industry. It is made up of eight provincial industry associations from across the country (DigiBC, Digital Alberta, SaskInteractive, New Media Manitoba, La Guilde du Jeu Vidéo du Québec, Interactive Ontario, Videogames PEI & Interactive Society of Nova Scotia), and some of the highlights of the work we did in 2021 included:
- Consulting with the Canada Media Fund (CMF) and proposing a new funding model which included increases to funding for IDM production and early-stage IP development and prototyping, as well as reconsidering recoupment. We also consulted with and provided feedback to Valerie Creighton (CEO & President, CMF) for a Q&A with Minister Steven Guilbeault addressing Canada's commitment to gaming and "where gaming video content and interactive media fit into the future of the Canadian screen-based production sector."
- Rebranding of the canadagamesonline.ca website to videogamescanada.ca and having it used for promoting international trade missions.
- Working with CanExport to secure federal funding for coaching and subsidized registration to:
PG Connects 2021 trade mission (virtual)
Devcom / Gamescom 2021 trade mission (virtual)
GDC 2022 trade mission (in-person)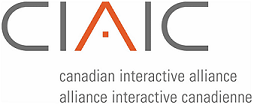 ►DigiBC + A/VFX Education Steering Committee

This was established to work on strengthening industry relationships with the post-secondary ecosystem across BC. The committee consulted on the development of novel micro-credential programs, and connected our member companies with funding opportunities for work-integrated-learning (WIL).

► Funding & Grant Programs
• Micro-credential programs with universities and colleges
• Mitacs x ECU: Animation & VFX Internship Grant Program
• Innovator Skills Initiative
• ICTC WIL Digital Program
• Centre for Digital Media R&D Projects

►DigiCamps for Underrepresented Youth
DigiCamp was created to give underrepresented youth in the province opportunities to learn skills, build confidence and broaden interest in careers within the creative technology sector. We're happy to report that the first-ever DigiCamp: Online Game Development Camp for Girls which took place in July and August was a success! We developed this in partnership with Under the GUI (UTG) Academy and had IUGO Mobile Entertainment on board as the sponsor. Going forward, we plan to hold this camp again and expand it to include other groups of underrepresented youth as part of our strategic goal of creating an inclusive, diverse and equitable creative technology sector.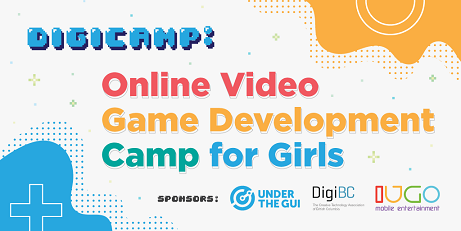 ►Sector Labour Market Partnership (SLMP) Project
Beginning in January 2020, DigiBC undertook a year-long research project to benchmark the creative technology industry in BC, and this was done in partnership with the Information and Communications Technology Council (ICTC) and BC's Ministry of Advanced Education and Skills Training (AEST). The first-of-its-kind study includes over 70 interviews with industry and academic organizations to provide a comprehensive overview of the creative technology labour and education ecosystem in BC. The results of this study can be found in our final report, Benchmarking the Creative Technology Industry in British Columbia, which was released in October of this year. It examines both the job development potential and demand for talent in the province, along with current post-secondary training opportunities.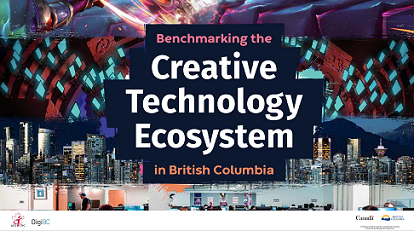 ►EDI Steering Committee
This was established to provide programming and resources to support our members' EDI policy and commitments. The committee has also formed strategic partnerships to help ensure opportunity for underrepresented groups, and is developing a charter and action plan for 2022.

►Indigenous Collaborations
DigiBC met with the Seabird Island Band (Stolo First Nation) to discuss common ground and potential opportunities to work towards an MOU.

►The Government of Canada's 50-30 Challenge
DigiBC signed on to this and is one of 1,391 companies participating in the 50-30 Challenge. The goal of the program is to challenge Canadian organizations to increase the representation and inclusion of diverse groups within their workplace, while highlighting the benefits of giving all Canadians a seat at the table.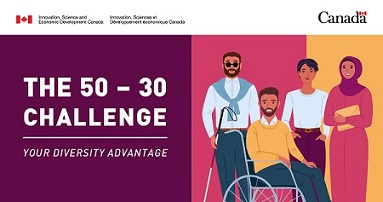 ►Women in Creative Technology Event Series
We launched this series in partnership with WIGeh & WIA Vancouver to support women in the sector. The first event took place in August and was an online panel discussion featuring some of the sector's most influential trailblazers. They shared valuable advice and insight on topics such as the basics of networking, knowing your worth, how to handle bullying/sexism, and influencing skills. It was facilitated by Cathy Lim (HR Director, PopReach) and the list of panelists included Heidi Eaves (COO, Relic), Karen Addison (Development Director II, EA), Sara Maseko (Director of Finance, SkyBox Labs) and Jennifer Twiner McCarron (CEO, Thunderbird / Atomic Cartoons).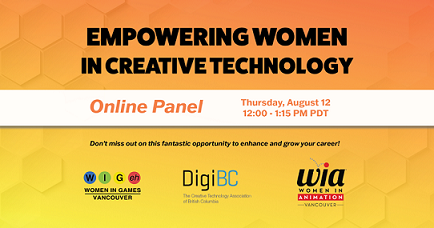 Membership, Community Building & Events


►We had 24 new members join the association this year, and we added two new membership perks by establishing partnerships with S+F Group Benefits Inc (health benefits) and Waypoint Insurance (home/business/auto/recreation).
►We updated our sizzle reel and unveiled it to coincide with Creative Industries Week & Creative Technology Day. This reel represents BC's entire creative technology sector from VFX and animation to video games and VR/AR/XR, while showcasing some of the spectacular content that is made by a number of our member studios.
►DigiBC's Executive Director, Loc Dao and board members, Jon Lutz (EA), Sharon Taylor (Animal Logic), Kay Wong-Alafriz (Kabam) & Nick Facey (Unity) were named in the BIV BC500 2021 List. This list features business leaders who have a notable impact and influence on BC's communities, industries and economy.
►DigiBC was proud to be a sponsor of the Spark CG Society and the 2021 Vancouver Asian Film Festival.

►Games From British Columbia Steam Page
We kicked off our 'Games From British Columbia' Steam page project, which is being done in collaboration with Creative BC. This is open to all BC-based video game studios that have titles on Steam, and the page will be launched in March 2022. It's a great opportunity for us to showcase the province's video game industry talent while providing a promotional tool for studios to promote their work.

03.11: SLMP Benchmarking the Creative Technology Industry Presentation
03.12: TELUS EPP Info Session
03.31: Meet the New Executive Director & Virtual Trivia Night
04.12-16: Creative Industries Week
04.14: Creative Technology Day
05.18: Calm the Chaos: Managing Stress Workshop
06.02: Approach to Return to Work & Vaccines
06.29: ICTC WIL Digital Program Info Session
07.12-16: DigiCamp: Online Video Game Development Camp for Girls
08.12: Empowering Women in Creative Technology Panel
08.09-13: DigiCamp: Online Video Game Development Camp for Girls
09.15: Approach to Return to Work & Vaccines part 2
10.01-11: VIFF Immersed Virtual Tech Crawl
10.21: Mitacs x ECU: Animation & VFX Internship Grant Program Info Session
11.02: Innovator Skills Initiative Info Session
11.08: DigiBC & ICTC: BC's Creative Tech Ecosystem Panel
11.30: WIGeh Lightning Talks Lunch & Learn (DigiBC supported)
12.15: CDM Annual Food Bank Fundraiser & Charity Poker Night (DigiBC supported)

Creative Industries Week
DigiBC participated in Creative Industries Week 2021, celebrating film, television, creative technology, book and magazine publishing, and music in BC with government, community and industry partners. This year's event was open to the public for the first time, and it was an opportunity to showcase BC's innovative, tenacious and resilient creative sector as we collectively emerge from the extraordinary and challenging circumstances of the global pandemic.

Creative Technology Day
As part of CIW 2021, DigiBC presented Creative Technology Day where we were able to highlight some of the incredible stories behind our province's diverse and talented creative tech industry.

VIFF Immersed Tech Crawl
As part of VIFF Immersed, DigiBC presented the VIFF Immersed Tech Crawl which brought together members of BC's XR community and attendees got to know some of the province's top XR creators in this virtual trade show. Genius XR provided their immersive platform Congrego.Tech for the event which ran from October 1-11. The participating companies were Splash Mango, IM4 Media Lab, Inscape Studios, Strawberry Fields Interactive, Hammer & Tong, Re:Naissance Opera.