Canada Games Online 2020 Recap
Thank

you to everyone who participated in Canada Games Online 2020. The conference was a massive success thanks to the collaboration of the Canadian video game sector's industry associations from Ontario, Quebec, BC, Manitoba, Saskatchewan, Nova Scotia and PEI. As a part of B2B Connect, Canadian studio leaders met with 65+ investors and publishers from top global companies such as EA, Nintendo, Konami, NetEase, Square Enix and 505 Games. Additionally, attendees were able to benefit from the insight shared by industry experts during the Market Pulse Training webinars.

Click here to view Market Pulse webinars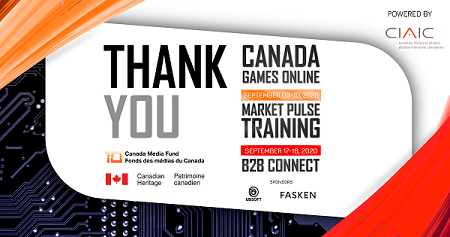 ---
IDM Business Analytics Survey (Monthly Data Collection)
DigiBC is tracking basic analytics in order to have factual data on the impact that our sector is experiencing from COVID-19. We will use this data to advocate on behalf of industry. If you are in the video game sector, it is in your best interest to participate in this simple data collection exercise. We ask only five questions that measure changes in deal flow, productivity, revenue and staffing.

We currently have 20 game studios participating and have collected monthly analytics from March to August. This represents (by headcount) about 50% of the industry. We'd like to hit 65% to ensure it is reflective, so please contact team@digibc.org if you would like to participate and share your anonymous data.
---
DigiBC & WIA Report on Workplace Equity, Diversity & Inclusion
In 2019, DigiBC collaborated

with Women in Animation (WIA) and

received funding from Creative BC to deliver an industry-specific Equity, Diversity & Inclusion (EDI) Strategy. The following report and recommendations are the product of this strategy which consisted of an EDI audit across DigiBC's membership, inclusion literacy and unconscious bias training of industry leadership, and establishing tools and policies for members.

---
SLMP (Sector Labour Market Partnership) Project Update
DigiBC is nearing the end of our Creative Technology Education SLMP Project research.

We look forward to sharing more findings from this pivotal benchmark study when the final report is released in November.




While we are still analyzing the data and writing the report, there are some interesting initial findings. For example, we asked about Work Integrated Learning (WIL) and discovered the following:


All participants suggested that WIL students demonstrate a higher competency level when entering workforce
95% of studios found WIL programs to be important
90% of studios currently hire or have hired co-ops or interns
Those that have, would like to, but do not have capacity to dedicate resources to effectively supervise, train and support the students
Most successful WIL students are those that have stronger "soft skills" (passion for industry, strong communication skills, agility and ability to adapt, strong learning attitude, professionalism)

Most studios report approximately a 50% conversion rate from WIL student to full-time hire