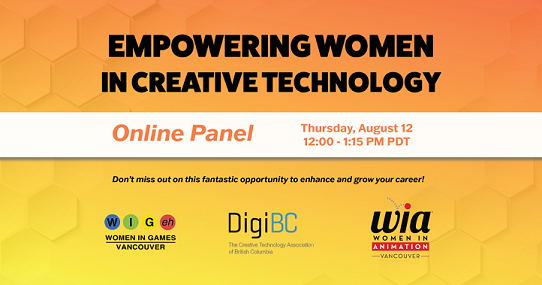 Calling all women* in the creative technology industry! Don't miss out on this fantastic opportunity to empower and grow your career!

DigiBC is thrilled to present our next event on August 12 in collaboration with Women in Games Vancouver (WIGeh) and Women in Animation (WIA) Vancouver. This will be an online panel discussion with some of the sector's most influential trailblazers. They will be sharing valuable advice and insight on topics such as the basics of networking, how to handle bullying/sexism, communicating and understanding your worth, expanding your influence, and more! We want you to come away from this workshop with added confidence and life skills that will help advance your career.
Facilitator
Cathy Lim (HR Director, PopReach Inc)
Jennifer Twiner McCarron (CEO, Thunderbird / Atomic Cartoons)

Heidi Eaves (COO, Relic Entertainment)

Sara Maseko (Director of Finance, SkyBox Labs)

Karen Addison Te (Development Director II, EA)
This event is is intended for all Women*. We say women with * because "female" or "women" is not an accurate description for all. Using * is to specifically and intentionally include cis and trans women, as well as non-binary, agender or intersex folx and other gender minorities.

---
Panelist Profiles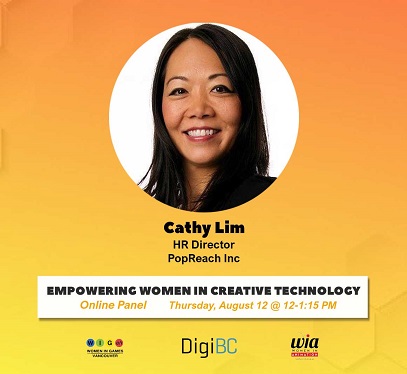 Cathy is a seasoned HR professional with 20 years of experience in Vancouver's tech industry. She is currently the HR Director for PopReach Inc and is also the volunteer Executive Director for the Vancouver Asian Film Festival, helping advocate for under-represented groups in mass media and increasing awareness against anti-Asian hate crime. Cathy has been teaching throughout her career for multiple post-secondary institutions such as UBC, BCIT, VFS, and CDM, and several non-profits such as the Vancouver Asian Film Festival and YWCA. Her passion to engage and enlighten those around her feeds her limitless energy.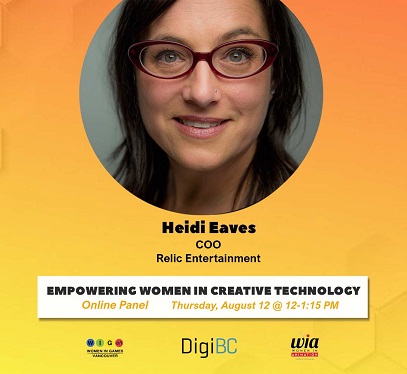 Heidi's goal is to help people succeed at work. An energetic and collaborative leader, she creates programs to empower managers to support their teams and help everyone thrive in a healthy, happy, and productive way. Heidi has over 25 years of video games delivery and consulting experience as a project and people manager, human resources professional, leader, and coach.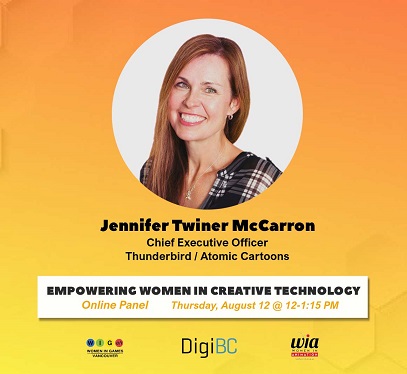 Jennifer joined Atomic as the Head of Production in 2011, was promoted to CEO in 2016 and then CEO of all Thunderbird companies in 2018. Over the past 20 years, she has produced or executive produced dozens of animated series, video game cinematics, and direct-to-DVD features, including the popular Barbie Princess franchise. Prior to joining Atomic, she was VP of Production for Rainmaker Entertainment.
Jennifer holds a Bachelor of Fine Arts from Carleton University and a degree in film studies from the Vancouver Film School. She is an award-winning producer having received multiple Leo Awards, an ELAN and a DTV Award. She was voted one of the 'Top 25 Women in Animation' by Animation Magazine in 2004 and named 'Executive of the Year' by Playback Magazine in 2018. In 2019, she was also named by the Women's Executive Network (WXN) as one of 'Canada's 100 Most Powerful Women'. Jennifer's greatest achievement, however, is her family and she cherishes spending time with her husband and three children.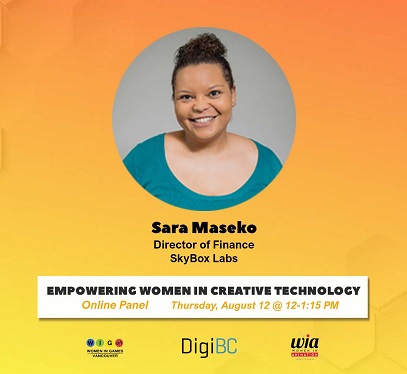 Sara is a CPA currently working as the Director of Finance for SkyBox Labs and has also been on the DigiBC Board of Directors since 2019. She's spent 14 years continuously developing expertise in accounting and finance, having previously worked freelance and in public practice. While she makes a living in numbers, she is also an advocate for positive self-image and mental well-being. In her leisure time, Sara can be found working in her garden, playing mobile games or working on mastering her cooking skills.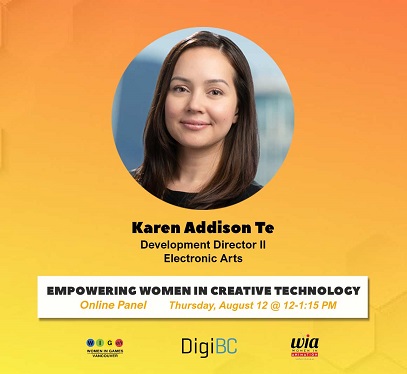 Karen is a strategic and visionary project and team leader. With an education background in Computer Systems Technology from BCIT, she has focused the last 14 years of her career on building, leading and coaching high-performance software and product development teams. A lifelong love of video games and a tendency to gravitate towards the most complex and challenging problem sets led her to the mobile games industry. Since 2009, she has developed 18 mobile games including top-grossing titles such as Knights and Dragons and The Walking Dead: Road to Survival.

Karen considers herself blessed to have had some great opportunities to partner and collaborate with other women in tech and looks forward to expanding on those opportunities. She believes in approaching career progress with an abundance mindset that involves lifting up and supporting others. She truly believes that any time you are part of a team or a community, the only way to win is to win together!