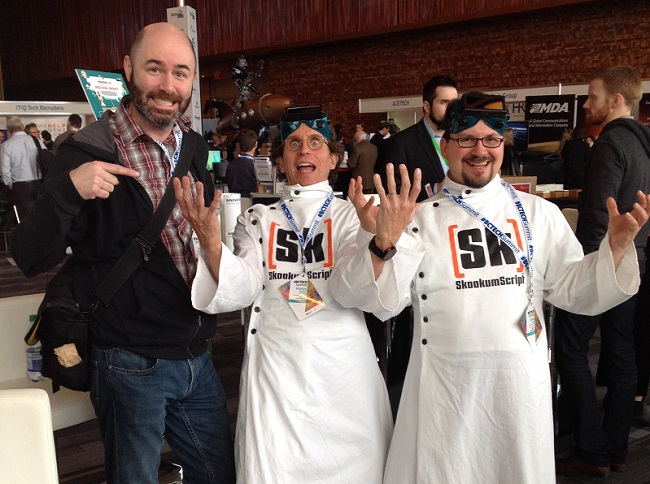 Today is the first day of GDC 2016, or for those not working in the video games industry, the Games Developer Conference. GDC, which takes place in San Francisco in March every year, is one of the big events for the games industry. If you're an established international publisher or a up-and-coming indie studio seeking to advance to the next level, not only do you know what GDC is, you have to be there.
In 40 years the video gaming industry has become a huge industry worldwide. Worldwide video game revenues for 2015 are estimated to be in the neighbourhood of $91 billion dollars -- that's more than double the size of the global film box office. And next year new technologies and double-digit growth in China are expected to drive the global revenue of games up to a staggering $111 billion dollars.
That's a lot of money swirling around the games industry now -- and so the importance of having a developer focused event on the business of making and marketing video games makes a lot of sense.
Where BC Video Game Companies Fit In
DigiBC keeps a close eye on our province's video game community. Thanks to the deep layer of talent and healthy climate for this kind of business, there are new studios popping up all the time, all across BC. Some of the new studios we're seeing emerge are around the growing field of virtual reality (VR) and augmented reality (AR) games. That's not to say there aren't new companies opening shop developing mobile games, or browser/PC games, or even new console games studios announcing their presence.
With nearly 170 interactive entertainment companies spread across our province, there have also been fantastic success stories taking place in the past twelve months:
And these are just the results of 6 gaming studios based here in British Columbia. There are dozens and dozens more, all producing some of the world's most popular games across every platform.
Building these titles is an important part of these companies' business strategy, but an equally important part is telling the world about these games. That's where having a presence in GDC comes in.
BC Game Studios at GDC

According to the BC Government website, more than two dozen BC gaming studios will be at GDC 2016. I know that more BC gaming individuals that than will be attending GDC this year, whether to check out the convention on their own or as a representative for their studio.
The BC government recognizes the importance of having made in BC video games and their creators at GDC. "The Game Developers Conference provides a fantastic opportunity for B.C. game developers to catch the eye of investors from all over the world, making important business connections with the help of the B.C. government and partner associations like DigiBC and Creative BC," said Minister of International Trade Teresa Wat. "Each new connection has the potential to translate into new jobs for British Columbians, boosting B.C.'s already thriving video game sector."
And the help is appreciated from the owners of BC's video game companies. "As a rising B.C. tech start-up developing cutting-edge tools for the global video game production industry, having an expo booth at the Game Developers Conference is essential for finding new clients and partners," says Agog Labs' co-founder Conan Reis. Conan and his team have built a gaming programming language that streamlines the development of complex games in systems such as the Unreal Engine. Today Conan's Skookum Script is used in 44 countries around the world. Conan and his team of mad scientists (that's them in the photo above) will be one of a number of BC game companies with a booth at GDC, and we're hoping that after this year's GDC, the number of gaming studios using Skookum Script will go up.
There's so much deep talent in BC's game industry, from development of great next gen games to the middleware and backend technology that enables these games to compete with the world's best tech. Our hope for GDC 2016 is that more opportunity will arise from the conference for all the great BC companies working on games, and that more international studios will be drawn to opening a studio somewhere in our province. After all, this has been and continues to be one of the world's best hubs for video game development, and I would expect it to remain that way into the 2020s.
Look for DigiBC to share more great stories about our local video game companies throughout 2016!