Augmented reality is leaping to the top of the public's consciousness in a big way. Look no further than the huge success of Pokemon Go and how it's rapidly become a six-o-clock news story in less than one week from its' launch.
Microsoft's entry into the augmented reality (AR) space is the HoloLens, a compact headset that allows its' user to manipulate items as if they existed side-by-side with real world objects.
One of the first agency partners to work with the HoloLens is Coquitlam-based Finger Food Studios. After making a name for themselves as a video games content and solutions provider, Finger Food is now developing custom solutions for some of the world's biggest brands. At DigiBC's recent Made in BC event, Finger Food reps showed off some of the amazing creations they have been working on in AR.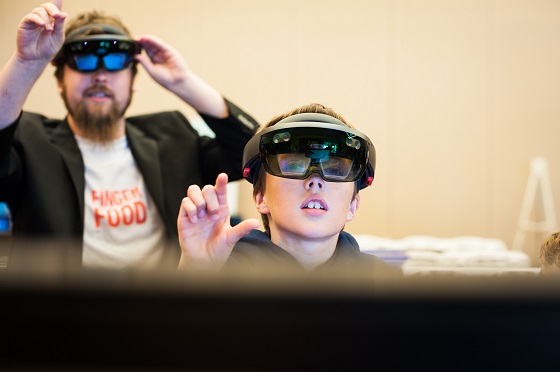 Students from Victoria & Vancouver got to try out Microsoft's HoloLens and the AR creations of Finger Food Studios.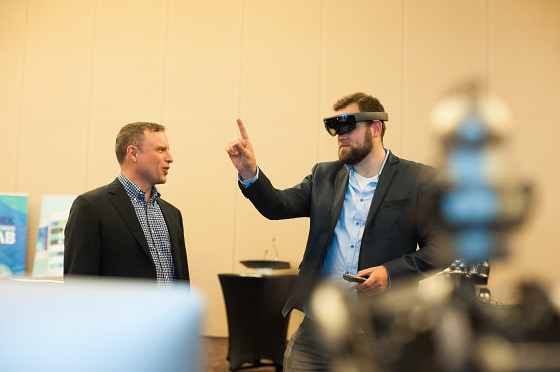 Ryan Peterson (left), the CEO of Finger Food Studios, at DigiBC's Made in BC Victoria event. Llama Zoo's Charles Lavigne is wearing the HoloLens.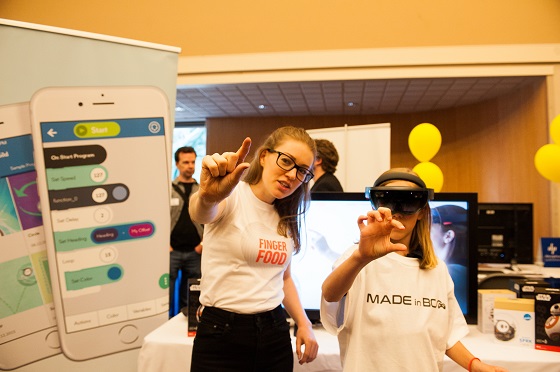 Finger Food's office manager Samantha Sayer shows a student how to manipulate augmented reality tech.
Furthermore, last month Prime Minister Justin Trudeau visited Vancouver's Microsoft Center for Excellence to try on the HoloLens himself and experience what living inside augmented reality is like.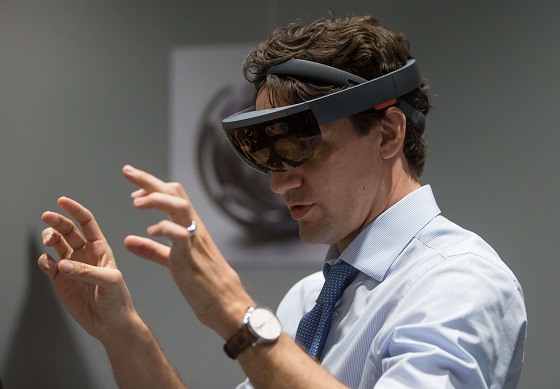 Now Microsoft's official HoloLens YouTube channel has released a new video showing the work of the first crop of HoloLens developers -- and Finger Food Studios gets some on air time. Starting at 0:51, check out how FFS has made it possible for people to customize semi-truck rigs with the swipe of their fingers for truck manufacturer Paccar:
There is undoubtedly more cool, cutting-edge AR work being developed by Finger Food Studios. Keep your eyes and ears open, because I'm certain that you'll hear about it soon.
Congrats to the Ryan Peterson and his Finger Food Studio team for showing another example of a BC-based tech company raising the bar.