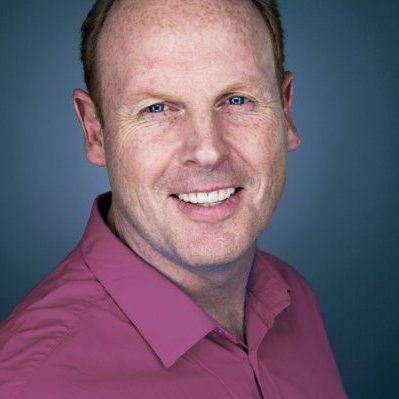 AMPD Game Technologies may be a new player into Vancouver's video game sector, but the founders are veterans with a long track record working in the industry.
I've gotten to know the three founders well when they introduced themselves to me last summer, as they were setting up their brand new company. By November 2015, mere weeks after they had become official DigiBC members, AMPD had sponsored an exclusive screening of the new James Bond movie "Spectre" for game, VFX and animation companies. I wish all new members were like that!
One of the ways that I want to utilize the DigiBC blog is to dive deeper into the companies that make up DigiBC membership. When I get to speak to a company founder or executive, I often walk away with new insights into this industry, from how they are growing their business to the reasons why they care about building something great for their fans or customers.
From my discussions with AMPD's leadership team, I found that they were showing me a whole other side to the challenges of operating a world-class video game, visual effects or digital animation studio: how to get the most from your IT infrastructure, your bandwidth and your computing power. These are the big level challenges the C-level folk need to concern themselves with when their studios compete with rivals around the world. AMPD Game Technologies is addressing those concerns, and they seem to be filling an important gap for our local interactive entertainment companies.
I asked Mark Taylor, AMPD's President and one of its founders, to chat with me about his company and his reasons for jumping into this space. Here's our conversation:
DIGIBC: Let's start off with a brief intro about what AMPD Game Technologies is about.
MARK: AMPD is a technology infrastructure and hosting provider focused on the Video Game and Digital Media industry. We design, build and host infrastructure for video game and digital media studios and publishers.
DIGIBC: What's your background? Where do the AMPD founders come from?
MARK: AMPD is made up of technology industry veterans with a unique combination of experience in digital media technology infrastructure and game publishing. Our CEO, Anthony Brown and COO, Paul Mari started a company called Seven Group in 2001, pioneering the Digital Media infrastructure technology space. They then founded Infinite Game Publishing (IGP) and along with our CTO, Don Bustin published MechWarrior Online.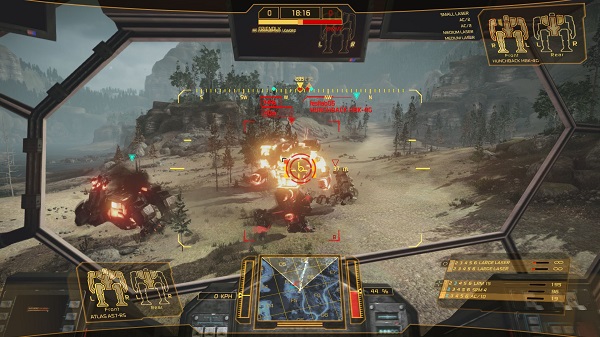 Screenshot of Mechwarrior Online, a game that 3 of the 4 AMPD co-founders published while at IGP.
DIGIBC: Why the decision to offer your services to BC game developers and visual effects/animation studios?
MARK: We saw a specific need in the industry for a company to provide industry focused infrastructure solutions. We take a vertical approach to providing a complete solution set; studio designs and deployments, our Online Development Environment (ODE) and our Online Game Platform as a Service (OG-PaaS). No other company in the world provides this vertically aligned approach, specific to the video game and digital media industry.
Designing, procuring, and deploying hardware such as servers, storage and networking is an onerous and time consuming task, that demands vast amounts of an IT team's time and energy. We support the IT team by providing knowledge and efficiencies to enhance their efforts. Our goal is to make the entire studio more productive, more efficient and more cost effective; all at no cost to the client.
Then we have our Online Development Environment or ODE™ which is specifically designed for developers to be able to simulate a live online environment during the development of the game, and for the purposes of testing reliability and performance before moving into closed beta. This is our "special sauce" and was developed as a direct result of our experience with publishing MechWarrior Online. It decreases the risk of a game crashing on launch and increases productivity within the Development and QA cycles.
Finally, our Online Game Platform as a Service (OG-PaaS) is a custom designed and built hosting environment for online gaming. Built specifically for the demands of the game and the online audience, no other hosting provider in the world can offer such a tailored, custom architected, cost-effective hosted environment.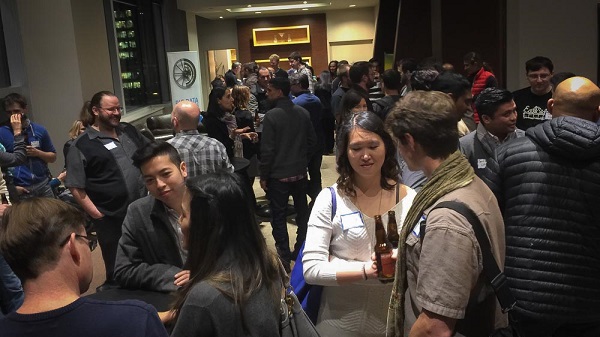 Workers & management from dozens of Vancouver's game studios came out for AMPD's exclusive screening of "Spectre".
DIGIBC: About that last bit you mentioned, the online gaming portion of your business. Is there major distinctions between game companies that choose to run their online servers inside Canada or somewhere else, like in America?
MARK: It's amazing to us how many Canadian and foreign owned companies run their games on servers hosted in the U.S. Regardless of the exchange rate cost differentials, they now need to adhere to the Freedom Act privacy laws, and U.S. Tax Nexus. The Canadian data and telecom infrastructure is world class, our energy rates are low and the expertise and knowledge base second to none. Why would you run your game anywhere else?
DIGIBC: Why do you think Canada has become such a big player in game development?
MARK: I know the first things that tend to come to mind are the tax incentives and low Canadian dollar, but I really feel that it comes down to the incredible talent pool we have here in Canada, especially in Vancouver and Montreal. With anchor studios like EA, Ubisoft, and Eidos we have been able to foster other developers like Piranha, Behavior and BBI with incredible levels of talent and expertise. From the artists and designers, to coders and IT teams, Canada is second to none for amazing talent. As it turns out, we also have the best infrastructure for technology and hosting in North America, and we see the huge opportunity for new publishers and developers to take advantage of everything we have here in Canada.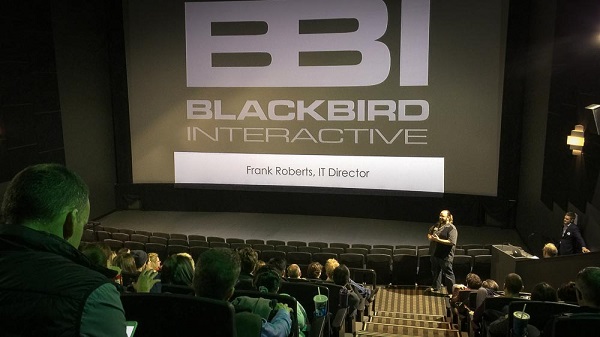 Speakers from both Blackbird Interactive & RBC 's Technology division addressed the "Spectre" crowd.
DIGIBC: What technology challenges do new developers face in the videogame developers space?
MARK: There are certainly advantages for new developers that have come about in the last few years with more comprehensive engines and various third party software packages that make development more streamlined and come with more resources out of the box. That being said, since developers can now ship their games digitally (for example through Steam), there is a trend towards self publishing. We think this is a great trend and that the industry will be able to see more diverse content from indie developers. However, there are significant technology challenges around this especially when it comes to getting comprehensive Q&A, and testing as well as building a robust back end for hosting the game. Of course we see this as an opportunity for AMPD to come in and help address these challenges.
DIGIBC: What about the move towards creating virtual reality games? How much of an impact will VR gaming have on the gaming industry and its' infrastructure needs?
MARK: It's pretty hard to tell at this point as it is still early. In our opinion it is definitely coming to the point that VR will be a real facet of the industry starting pretty much this year. Some of the obvious challenges will come from being able to stream larger amounts of data that the GPU will then have to render while still keeping the latency low enough to avoid the "motion sickness" that can be experienced when the latency is too high or the frame rate is too low. Something else we are very interested in seeing is how multi player experiences could be dealt with in a VR environment. Dealing with latency reaches a whole new level in a multi-player experience, so we are curious to see how that will be addressed. Exciting times!
DIGIBC: AMPD held a screening of the James Bond movie "Spectre" last November for people in the BC games and VFX industry. How was that?
MARK: The turn-out and feedback on this event was beyond our expectations. Everyone had a wonderful time and it gave everyone an opportunity to network and connect with old and new friends. It was wonderful and we're going to host another one very soon.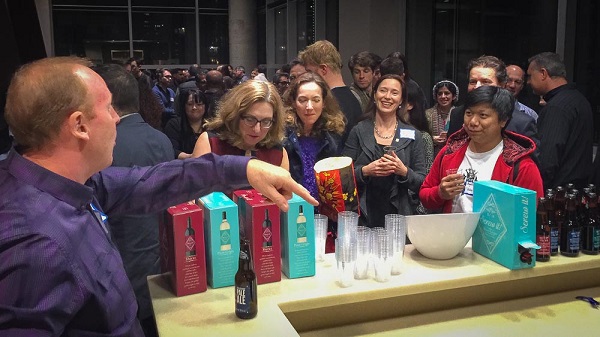 "Spectre" guests enjoyed free drinks & food before the start of the show. See more photos from AMPD's screening on their website.
DIGIBC: Your company is a new member with DigiBC, not even for half-a-year. What value have you gotten so far from being a DigiBC member?
MARK: Honestly, DigiBC has been the best partner we could hope for. Launching a new company is not easy and the support and enthusiasm provided by the DigiBC team and executive has been fantastic. We have been recommending membership to all of our vendor partners, clients and colleagues. The best membership money we've ever spent.
DIGIBC: Alright, it's now the fun question time of the interview. What's your favorite old school video game?
MARK: Street Fighter by Capcom
DIGIBC: Favorite game that you've played in the past 12 months?
MARK: "Homeworld: Deserts of Kharak" developed by our very own Blackbird Interactive.
DIGIBC: And where would you like to see AMPD in five years?
MARK: We want to be to the world's #1 provider of technology, infrastructure and hosting to the Game and VFX industry.

If you want to be on the list for the next DigiBC event that AMPD Game Technologies bring you, sign up for the Digi newsletter.
Read more about AMPD and their approach to helping VFX and game studios on the company's website.