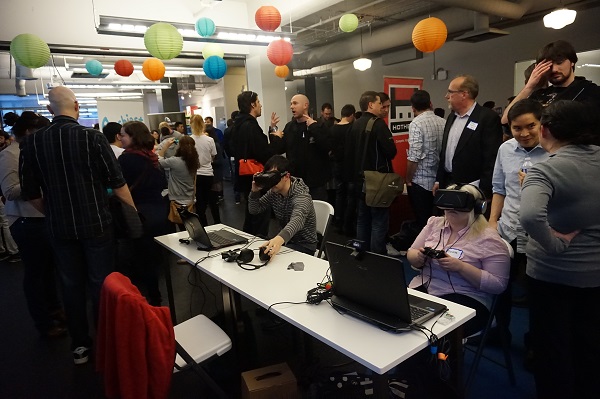 A jammed room of virtual reality gamers and job seekers at DigiBC's April 2015 "Level Up" event.
On April 14th DigiBC hosted its second "Level Up" event of the year. For those not in the know, "Level Up" are DigiBC's video game-themed events; for example, in March we presented a panel featuring six of the Lower Mainland's movers and shakers in the video game industry, to discuss what it might take for BC to raise the gaming industry to a higher stage of growth and visibility.
For the most recent "Level Up", Digi chose to focus on the emerging virtual reality (VR) games being built in Vancouver. Six developers were on hand to show off their VR game creations including Archiact (makers of "Lamper VR"); the makers of the shadowy and spooky "Gorgon VR"; Conquer Mobile and their medical VR sim "PeriopSim"; and last but not least, H Plus Technologies brought their Holus device, showing off the holography entertainment that they're building.
Job Fair
But that's not all that happened at April's "Level Up". The week before, a local video games studio had to downsize a significant portion of their Vancouver staff. We know the people there, and our hearts immediately went out to the affected employees as well as the management team who had to go through this difficult adjustment.
I had the thought to turn Tuesday's night "Level Up" into an impromptu job fair, hoping that a handful of Vancouver gaming studios could send someone from HR to meet with these new job seekers. The actual results startled me: in only the space of 48 hours, 15 video game studios confirmed to send representatives, and another 5 IT recruitment agencies also confirmed their interest.
"There's a Line Up Out the Door!"
We held this "Level Up" at the offices of Mobify, one of Vancouver's emerging tech leaders in the mobile marketing and shopping space. By the time 6:30pm rolled around and the doors were open, there was a line-up down the stairs to get in the room.
Over 140 people showed up to "Level Up", and it looked to be about evenly split between VR enthusiasts, job seekers and employers. I had originally planned to have the VR developers give a short presentation, but the level of interactivity between the crowd and the so-called "VR pods" where the teams were set up was always high.
In the end, I heard reports from a couple of gaming companies that they had made offers that night to job seekers, and that the VR game companies had gotten high levels of interest in their creations. That's a win-win I'll take any day.
Keep Playing
DigiBC wants to do regular "Level Up" events, so look for the announcements on our social media channels and website. What I also learned is that the Vancouver video game industry has massive respect for each other; companies stepped up and helped over three dozen people find new homes to build great games. That was awesome to see and experience, and I'd like to hold something like this again. We've got a special thing going in video games here in Vancouver (and, from what I hear, in Victoria as well), so the more that this sense of pride of community can be cultivated, the stronger our industry should be.
Thanks to everyone that came out to April's "Level Up", and keep your eyes open for new developments with the VR game companies that showed their work that night.
Patrick@DigiBC