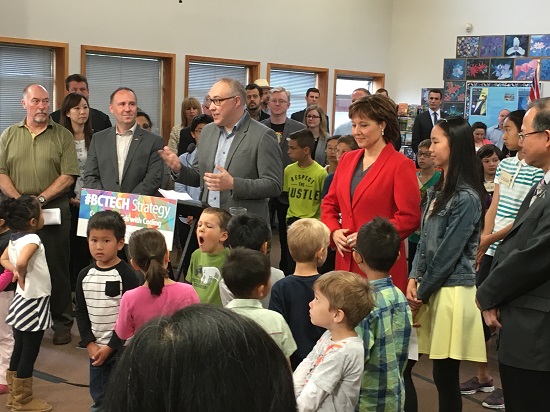 Last Friday I had the opportunity to speak about the provincial government's announcement for $6 million dollars to help BC students learn to code, bring in new computers and resources to classrooms and train teachers to teach programming in classrooms. The announcement was made by Premier Christy Clark at Taylor Park Elementary School in Burnaby, with Minister of Education Mike Bernier in attendance. At Taylor Park there is already a coding class, with robotics and 3D printing being used by the students, and they want to learn more.
With this announcement the province is taking an important step forward to open doors of opportunity for all BC students. Technology is now an integrated part of modern society. The more that young minds can be exposed to all applications of technology, from coding a computer to understanding how digital functionality helps us make the world a better place, the wider the possibilities are for their future careers.
BC needs more people working in technology, and making new companies that will become tomorrow's tech superstars. Yes, coding can create those bright entrepreneurs that could go on to make the next Facebook or Microsoft, but there's an important part of learning to code that sometimes get overlooked.
Critical Thinking is for Everyone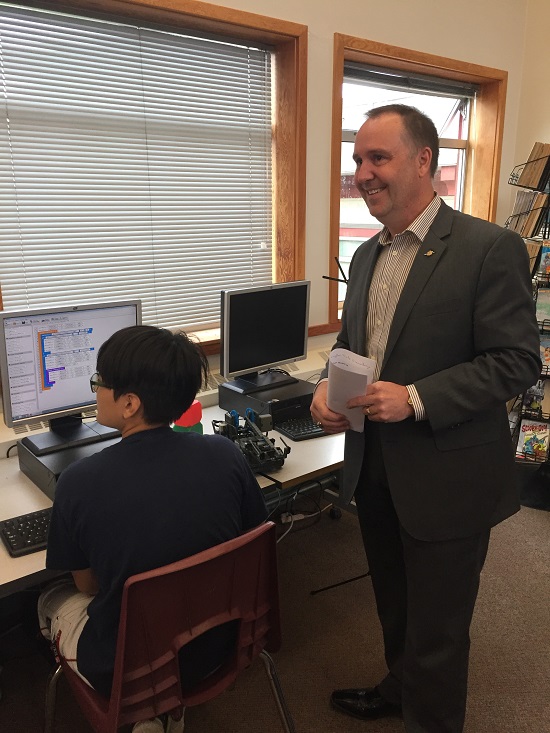 (Left: Minister of Education Mike Bernier watches a coding demo from a Taylor Park student.)
Discovering how you can "teach" a machine to do tasks with a robot, or in a video game, builds critical thinking skills. These skills are essential if one goes down a career path as a computer engineer or some sort, but even if that individual does not pursue a job in technology, the mind skills learned by way of coding pays off in several ways.
No one doubts that critical thinking allows a person to be more subjective about decision points in one's life. From thinking about how to successfully plan for one's retirement to choosing where your children should go during summer vacation, critical thinking development provides mechanisms that train your brain to solve difficult problems successfully. That's something I believe should be instilled into the next generation of our society because it will benefit the individual and society as a whole.
Where We Go Next
While announcing the $6 million in funding, Premier Clark mentioned that BC needs more tech savvy young people working in digital visual effects or creating video games. While these are both tech industries that are at the heart of the digital creative industries that DigiBC represents, these tech skills are easily be transported to other industries.
For example, BC's traditional business sectors like foresty, mining and tourism can all benefit from technological advancements in software, hardware and data analysis. The skills acquired being a community manager or data analyst at a video gaming company like Electronic Arts or Capcom can be transposed to a tech business ike Hootsuite, Build Direct or Elastic Path, or a life sciences / ICT / mobile startup. These are just a couple of examples that can be replicated ten thousand-fold, and spillover into BC's broad tech sector and beyond.
We're just at the start of figuring out how to best implement a province wide tech and coding strategy for education, but in many ways BC already has a head start. DigiBC member companies like EA Vancouver, Finger Food Studios, Roadhouse Interactive and Codename Entertainment have already dipped their feet into this area, helping their local schools and students discover how to learn to code (like our recent "Made in BC" event showed.) Our organization and member companies are eager to do more work with all students and educational disctricts across the province. Let's build on this $6 million investment in coding education to propel British Columbia into the 2020s and beyond.