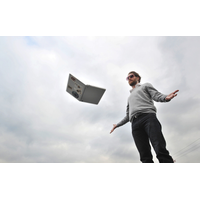 Via Vancouver Sun
The owls at HootSuite are starting to chat.
In its latest move to lead the growing market in social media management, the Vancouver start-up behind the wide-eyed owl logo has expanded its social media dashboard to add real time online chat.
Fittingly, the company, which has become the darling of private investors and counts among its clients such high-profile social networkers as the White House and Fortune 100 companies, announced the new service today, midway through Vancouver's Social Media Week.
HootSuite Conversations launched in beta today and will be available to HootSuite's nearly five million users around the globe.
Besides giving HootSuite users a way to connect with anyone on their network via chat, the new Conversations lets companies' teams and employee groups create their own online chat networks on their HootSuite dashboard, in effect giving them a back channel where they can share views and information without having to resort to email.
"One of the things we're seeing as a trend is a need for organizations to work together more effectively," said HootSuite chief executive Ryan Holmes. "Conversations is a tool to help people collaborate more effectively and we're excited about it."
Today's release is the latest in a string of announcements from HootSuite, which recently bought another social media platform — San Francisco-based Seesmic. Earlier this year, HootSuite saw an injection of $20 million in an equity stake by the Canadian venture capital firm OMERS Ventures, in what amounted to one of the largest venture capital investments in Canada over the past decade.
HootSuite, which offers a "freemium" model that monetizes about 3.5 per cent of its five million users, has been the subject of acquisition rumours, but so far it seem Holmes is content to turn away the suitors.
Asked if he still holds to his earlier plans to build a billion-dollar company in Vancouver, Holmes said: "Absolutely. We are going to continue moving ahead with building up the company. We are getting close to making an announcement on space and a new office location. We are absolutely committed to building out in Vancouver. We're well on track for that."



Read more: http://www.vancouversun.com/business/Vancouver+tech+start+Hootsuite+turns+chat+edge/7301384/story.html#ixzz27b63O4si
---