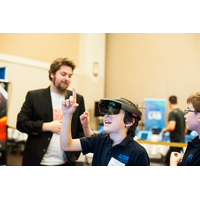 On Wednesday May 4, 2016, DigiBC held a one-day free event at the Victoria Convention Centre. Made In BC was designed to showcase 10 innovative video game companies from British Columbia, and how they are trailblazing to create great products and inspire the next generation of tech workers.
Comprising small start-ups to well-established international games studios, the ten B.C. companies consisted of Electronic Arts Vancouver, Cloudhead Games, Codename Entertainment, Disruptive Media Publishers, East Side Games, Finger Food Studios, Kerberos Productions, Klei Entertainment, Llama Zoo and Roadhouse Interactive. Products featured included upcoming new releases on mobile platforms, desktop computers, virtual reality headsets and the Microsoft augmented reality HoloLens headset.
In addition to the ten companies on display, DigiBC created a makeshift classroom for nearly 40 grade school students from Vancouver and Victoria schools. The children, between the ages of 9 to 12, were instructed by UME Academy on how to code and create their own video game.
Finger Food Studios also donated a portion of their time to show kids how to code using Hasbro's Sphero app-enabled robotic orb. The studio built the interface app between Sphero and a mobile/tablet device used to control it. As well, Finger Food Studios has worked with the Coquitlam school district on creating a coding curriculum for middle-grade students using Spheros.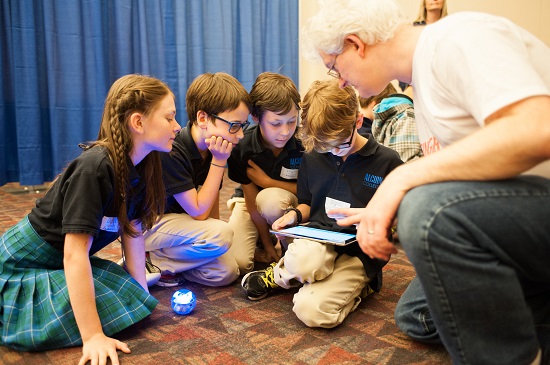 Students learning coding using Sphero at Made In BC.
During the afternoon portion of Made In BC, visitors to the classroom included British Columbia's Minister of Education Mike Bernier, as well as Minister of Technology Amrik Virk.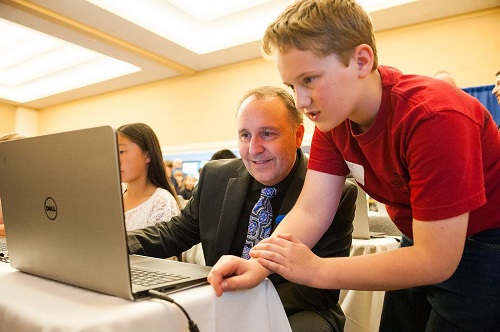 Minister of Education Mike Bernier picks up some coding skills from his teacher.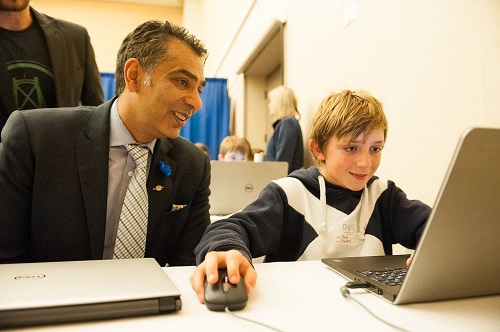 Minister of Technology Amrik Virk at "Made In BC"'s coding classroom.
In the evening an invitation only portion of the event was held. Numerous Ministers and MLAs from BC's provincial government were in attendance including Minister of Jobs, Tourism and Skills Training Shirley Bond.
DigiBC graciously thanks the support of Made In BC's sponsors, Electronic Arts Vancouver, Finger Food Studios & Roadhouse Interactive, and the support of educators, parents and studio employees for making this event possible. Our intention is to do another similar event in Vancouver this fall.
View 150 photos from Made In BC below.
---