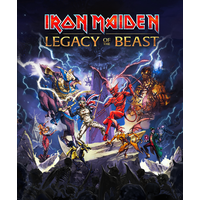 At Pocket Gamer London, Vancouver's Roadhouse Interactive announced that it, 50cc Games and Metal legends Iron Maiden have teamed up to create a new mobile game based on the legendary metal band's IP. Iron Maiden: Legacy of the Beast, an action-packed, free-to-play RPG steeped in Iron Maiden mythology, will launch worldwide this summer on iOS and Android platforms.
Following a series of hit action sports titles for Red Bull Media House, Warhammer 40,000: Carnage, a Games Workshop ARPG, and Food Battle: The Game for YouTube sensations SMOSH, Roadhouse Interactive's development and publishing divisions have been working hand in hand with Iron Maiden and their Phantom Music Management team, who have granted unparalleled access to the vaults in order to create a truly authentic Iron Maiden game.
"As a lifelong fan, I have always thought that Maiden's music, lyrics and cast of characters would provide the perfect basis for a deep RPG experience", says James Hursthouse, CEO of Roadhouse Interactive. "With this game we're creating an outstanding RPG that will appeal to all mobile gamers, including those discovering Maiden for the first time."
Developed in close collaboration with Iron Maiden's management, players take on the role of the band's iconic mascot, Eddie, in his many forms – each with unique abilities. Players explore new worlds, travel through time, and battle a cast of dramatic and engaging characters drawn from the expansive catalogue of Maiden's albums and art. Gameplay is enhanced with a soundtrack using songs spanning the band's entire career, including previously unheard live recordings of Iron Maiden classics adapted for the game by engineer Tony Newton under the close scrutiny of bassist and founding member Steve Harris.
"We know many of our fans are gamers and we have long thought that Eddie and Maiden's music and imagery would be perfect for this. It's something we have been looking at revisiting since Ed Hunter way back in 1999. Now in 2016 it can all be done on a smartphone so it makes it even more accessible for Maiden fans everywhere and also all the gamers out there." comments Harris.
Band manager Rod Smallwood says, "A game with tons of Maiden history, a load of unheard performances, and a chance to make your own Eddie army thanks to a world class Maiden-mad gaming company – now that's something I'm very excited about and I'm pretty sure our fans will be too. Thank you Roadhouse!"
Phantom Music creative director Llexi Leon adds, "This is the first time we'll see Iron Maiden's lyrical lore and the rich mythology of the record covers brought together in a cohesive universe, exploring Eddie's immortality and inviting players to control his destiny. The band's signature theatrics and musical drama set the tone for a unique adventure that's perfect for video games"
Iron Maiden's latest album, The Book of Souls, was released in September 2015 to popular and critical acclaim, hitting the #1 spot in over 40 countries and reinforcing their position as one of the most relevant and influential bands in music today. This year they will embark on the The Book of Souls World tour and with fan excitement at fever pitch it's the perfect time to expand Iron Maiden's legend into gaming.
Iron Maiden: Legacy of the Beast will be available later this year on iOS and Android platforms. See www.ironmaidenlegacy.com for ongoing releases about the game.
---