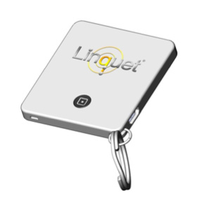 In the United States alone, more than 160,000 phones are misplaced, lost or stolen everyday, costing Americans $30 billion a year.
And the number of lost or stolen valuables is even higher than that.
People are constantly misplacing smartphones, keys, wallets, and valuable electronics.
Vancouver's Linquet (pronounced Linket) is hoping to do something about it. Linquet claims to be "the easiest and most comprehensive anti-loss solution."
Linquet users simply install a free app on their smartphone and link "linquets" to their smartphone via Bluetooth. When the phone or any linquet goes out-of-range (e.g. leaving home without your wallet) both their phone and their valuable will alarm, averting the loss.
In rare cases where you don't hear the alarm, Linquet uploads both time and location to the cloud, giving users the power to find their valuables afterwards. And to find your in-range valuables (e.g. keys in a messy room), you can simply press a button on the phone to immediately locate your keys or you could press the button on a Linquet to find your phone.
With Linquet you can prevent the loss of your phone and multiple valuables simultaneously. Linquet works automatically, so you don't need to open the app or even bring out your phone. It protects your valuables constantly, even when the app is closed.
Linquet was founded by Pooya Kazerouni and Vancouver superangel Mike Edwards is an investor. Use VIP passkey "LinkingEverything"
to get early access to Linquet now.
SOURCE: http://www.techvibes.com/blog/never-lose-your-smartphone-wallet-or-keys-again-with-linquet-2012-06-25 June 26, 2012
---