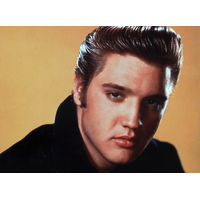 Los Angeles Times
LOS ANGELES — Elvis is coming back from the dead, thanks to some digital wizardry.
Digital Domain Media Group Inc., the Academy Award-winning studio that created visual effects for the "Transformers" films and "Tron: Legacy," has signed an agreement with Core Media Group to jointly develop and produce a series of "virtual" Elvis Presley likenesses for a range of entertainment projects, including appearances in shows and film and TV productions.
With studios in Los Angeles; London; Vancouver, Canada; and other cities, Digital Domain created the computer-generated likeness of the late rap artist Tupac Shakur for Dr. Dre's recent show at the Coachella Valley Music and Arts Festival.
Core, a portfolio company of Apollo Global Management, owns the license rights to Presley, Muhammad Ali, and other famous figures and brands.
"This is a new and exciting way to bring the magic and music of Elvis Presley to life," said Jack Soden, chief executive of Elvis Presley Enterprises Inc., a division of Core. "The high level of quality entertainment that both Core Media Group and Digital Domain deliver gives us great confidence that these projects will help continue the growth of Elvis' rich legacy all over the world."
The companies have already begun work on virtual likenesses of Presley.
"Elvis is the most iconic, most recognized performer on the planet, and we are thrilled to have been chosen to bring new performances and original shows where fans can have their own, new experiences of Elvis," said Digital Domain Chief Executive John Textor.
With more than 150 albums and singles certified gold, platinum or multi-platinum, Presley remains hugely popular. The rock music legend has more than 6 million fans on Facebook, more than 70,000 official app downloads and more than 5 million unique visitors annually to Elvis.com.
© Copyright (c) The Vancouver Sun

Source: The Province Newspaper June 18, 2012
http://www.vancouversun.com/entertainment/Elvis+Presley+perform+again+virtually/6745302/story.html

---