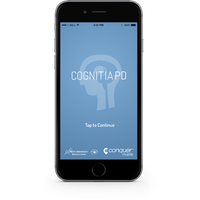 Vancouver, BC (PRWEB) - September 20, 2016 - Conquer Mobile today announced that the company is working with researchers from the University of British Columbia to develop a mobile game app to collect data for a large scale Parkinson's research study. The app, Cognitia PD, will be announced and demonstrated at the World Parkinson's Congress, which takes place in Portland, Oregon, September 20-23. The study is being led by a team from the Pacific Parkinson's Research Centre based at the University of British Columbia (UBC).

"We are inspired to create an application that incorporates feedback from clinicians, developers and people with Parkinson's disease to use as a valuable research tool" explained Dr. Martin McKeown, UBC Chair in Parkinson's Research and Director, Pacific Parkinson's Research Centre. "Using mobile devices to perform cognitive assessments in the form of a game enables us to collect research data on a large scale with the end goal of integrating the information learned into clinical care."

"We are excited to help bring this Parkinson's project to life," remarked Kathy O'Donoghue, Managing Director of Conquer Mobile. "Many of us hail from EA and the gaming industry. We are happy to be able to use our gamification and user experience skills to improve patient care and expand research."

Significance to Parkinson's Patient Care
People with a diagnosis of Parkinson's disease often only see their neurologist once or twice a year. A patient's symptoms or response to medication may change dramatically over the course of year but this may not be addressed until the next scheduled visit. An app that can be used by patients remotely will have major impact on tracking Parkinson's symptoms between clinical visits and will provide an integral tool to assess any cognitive or motor changes over time. The app stems from a collaborative effort between expert clinicians and researchers in the field of Parkinson's disease, experts in app design and gamification and members of the Parkinson's community. By encouraging patients to play the specially designed app games between clinic visits, researchers can collect large amounts of clinical data which will lead to a better understanding of disease progression. The unique aspect of this app is that in addition to obtaining a large amount of data, researchers are working closely with clinicians in order to integrate the results into clinical care and translate this into an overall improved patient experience.

Significance to Parkinson's Research
The study is the first Parkinson's research project to use game mechanics for wide-scale data collection with the intent of creating a clinical assessment tool. The research project uses a collection of multi-levelled games to test cognitive function in people diagnosed with Parkinson's disease as well as healthy control data from those without Parkinson's. Because it operates via a mobile app, the game can be quickly and easily distributed to a large number of participants across a wide geographic area. This dramatically increases the size and scope of the study compared with a traditional research project. Unlike a traditional study using standard assessment tools, the app games are developed with input from people with Parkinson's and are designed to be fun, quick and accessible and provide performance feedback to the user longitudinally.

About the Study
The study will be introduced and concept tested at the World Parkinson's Congress to gain feedback from people with Parkinson's and their care partners. The game will then be distributed through Parkinson's support groups to enable participation across North America.
The app, Cognitia PD, tracks various cognitive functions including memory and reaction time. The app collects basic demographic data, walks the user through a series of multi-levelled mini games and is tailored to people with Parkinson's disease. The games are intended to be played at the user's convenience and are designed for the iPod Touch, iPhone, and iPad, and will be expanded to other platforms in the near future.
About World Parkinson's Congress
The World Parkinson Congresses provide an international forum for dialogue on the latest scientific discoveries, medical practices, and caregiver initiatives related to Parkinson's disease. The Congress brings together physicians, neuroscientists, a broad range of other health professionals, care partners, and people with Parkinson's disease for a unique and inspiring experience. Such events are important in the effort to expedite the and cultivate best treatment practices for this disease.
Date: September 20-23, 2016
Location: Portland, Oregon
World Parkinson's Congress Website:

About Conquer Mobile
Conquer Mobile is a boutique mobile development company specializing in education technology. With deep expertise in VR, simulation and gamification, the team creates engaging apps that make learning more compelling. Since 2009, Conquer Mobile has been developing custom enterprise apps for high profile clients such as Kabuni, Webtech Wireless, 1-800-GOT-JUNK, GenomeDx, NGRAIN, McDonald's Canada and leading software companies.
About Pacific Parkinson's Research Centre
The mission of the Pacific Parkinson Research Centre (PPRC) is to act as a Centre of Excellence for diagnosis and management of Parkinson's Disease (PD) and other related disorders, as well as to conduct a strong research program that spans preclinical, clinical and population studies.
PPRC offers input from a variety of disciplines – neurology, nursing, physiotherapy and social work. There is also ample opportunity to participate in research including studies in PET and MRI imaging, clinical trials and genetics.
---