~ UPDATE ~
We've received an amazing response to this event and it's now SOLD OUT! If you have a ticket but can no longer attend, please cancel it (email team@digibc.org) so we can let folks in off the waitlist. Thank you!

-------------------------------------
Work-for-hire forever? Or original IP generators? Can BC make the switch? Attend our upcoming event and share your thoughts and questions with our panelists. We will be discussing the challenges, opportunities, and way forward with the creation of wholly owned original IP in British Columbia. This is a currently an important and hot topic that is resonating with many across our sector. There will be free entry, along with food and libations provided... so come join us for a fantastic night full of engaging discussion, networking, beer, burgers, and fun!
EVENT DETAILS

Panelists:
Prem Gill, CEO, Creative BC
Jamie Cheng, CEO, Klei Entertainment
Rick Mischel, CEO, Bardel Entertainment
Matt Toner, CEO, Biba Ventures
Moderated by Brenda Bailey, Executive Director, DigiBC

Topics Include:
• Government programs and whether they are a key factor to original IP generation
• Reviewing a DigiBC report on CMF funding in the IDM space
• Discussing tangible changes we can bring into our sector to increase the likelihood of entertainment brands emerging here
HUGE THANKS TO OUR GENEROUS SPONSORS



Presenting Sponsor: Truly Social Games aims to create engaging mobile games with an eye towards truly social interactions among both players and creators. They take pride in engaging with their players and allowing them to lend a hand in shaping the way their games are created. Truly Social Games currently employs a small but mighty team of 50+ employees spread across studios in Portland, Oregon (HQ), Vancouver, Canada and Minsk, Belarus.

Demonware creates and provides the online services behind some of the world's most popular video game franchises, including Call of Duty and Skylanders. They work smart, deliver on promises, and have fun doing it. The company is a wholly-owned subsidiary of Activision Blizzard Inc. and has offices in Dublin, Shanghai, and Vancouver.

Hyper Hippo is an award-winning independent studio located in Kelowna, BC and was co-founded in 2012 by Lance Priebe and Pascale Audette. Since 2014, they have had over 50 releases on the web, mobile, Steam and PlayStation platforms and their games have been played by millions of people around the world. The studio describes itself as being a collection of passionate and creative people who work to build fun digital games for everyone.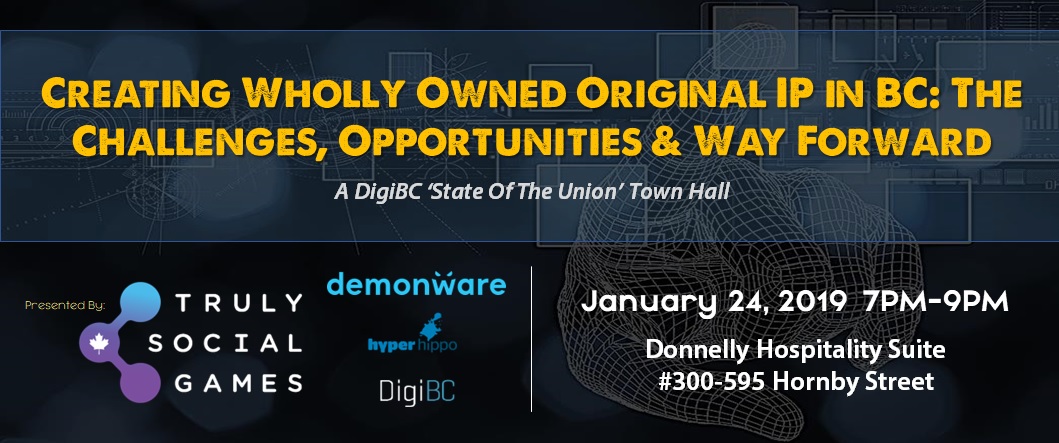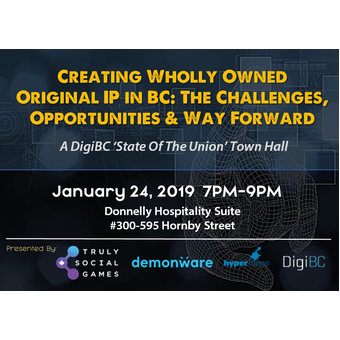 Donnelly Hospitality Suite, #303-595 Hornby Street, Vancouver, BC