GLOBAL VR DEVELOPERS FORUM 2017 / PLAYX4 / INVESTOR / B2B MEETINGS / G-HUB VR CENTRE VISIT SEOUL / GYEONGGI PREFECTURE - MAY 22nd to MAY 27th 2017

James Hursthouse, Executive Director of DigiBC, has been invited by the Gyeonggi Content Development Agency to lead a small delegation of BC-based VR companies to Seoul / Gyeonggi between May 22nd and May 27th 2017. 
Gyeonggi Prefecture can be thought of as 'Greater Seoul' and the bulk of the digital media companies commonly thought of as being 'in Seoul' are actually technically based in Gyeonggi.
Our trip will encompass business and investor meetings, a visit to the new VR/AR centre in Gyeonggi Prefecture, and two days of business activities at the Global VR Developers Forum and the PlayX4 Expo, collocated at the Kintex Exhibition Centre. James has a great deal of experience in business development in Asia, including over thirty visits to South Korea.
Costs for the trip (flight / hotels / booth space) will be fully covered for two DigiBC member companies (1 representative from each). While we realise this is relatively short notice, other companies are welcome to join the mission but will need to pay their own costs, estimated at around CAD $3500 - $4,000 per person.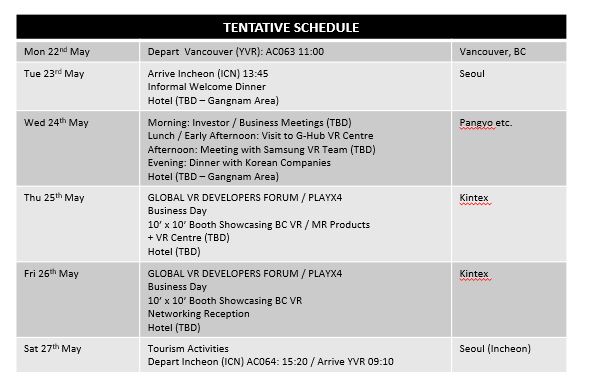 About GDF 2017
Korea's premier event for the emerging VR industry. Speakers include Kazuhiko Hayami (SEGA Live Creation), Tipatat Chennavasin (The Venture Reality Fund) and  Shintaro Yamagami (CEO: Colopl Next VR Fund). See more at http://www.gdf.or.kr (Korean)
About PlayX4
GDF 2017 is co-located with PlayX4, the Seoul's largest business and consumer focused video game conference and expo of the year. See more at http://www.playx4.or.kr/main.do

How to Apply
Please apply by contacting James Hursthouse (exec@digibc.org) by Friday 12th May 2017. The sponsored participants will be selected by DigiBC, in its sole discretion, from DigiBC member companies who apply on or before May 12, 2017. Other companies are welcome to join the delegation but will need to cover their own costs.
DISCLAIMER
DigiBC does not guarantee the nature or content of the activities that will occur during the trip, and activities may be different than a participant's expectations. Participation on the trip is offered "as is", without any warranty, and at each participant's own risk. DigiBC is not responsible for any loss suffered by participants, even if DigiBC might have been considered to be negligent, and DigiBC will have no liability to any participant. Participants must pay their own travel expenses and then request reimbursement from Gyeonggi Content Agency. Flights will be covered to a maximum of $2,000 per delegate. Maximum of one (1) person's expenses per company will be covered. Meals and food may not be covered. DigiBC does not guarantee that reimbursement. DigiBC is not a travel agency. Participants should obtain their own travel insurance. Visas may be required for entry to Korea. By applying, each participant accepts these terms.