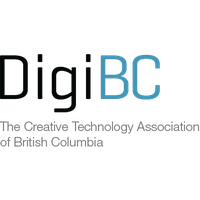 VANCOUVER, October 8, 2021 - DigiBC, the Creative Technology Association of British Columbia is pleased to announce its 2021/22 Board of Directors. Having served a year and a half as a director for DigiBC, Stephane Morichere-Matte (Product Director, The Garage at Microsoft) is stepping down and Alex Grimbley (Franchise Strategy Director & Executive Producer, The Coalition) joins the board as a newly elected director.

"The DigiBC Board is grateful to Stephane Morichere-Matte for the valuable contributions he made to the association's development during his tenure as a director. We are also delighted to welcome Alex Grimbley and have him join us in guiding DigiBC's mission to support the success of the creative technology industry in our province," says Board Chair Jon Lutz.
DigiBC's board membership reflects the broad spectrum of the creative technology industry in BC, with representatives from the animation, VFX, video game and interactive sectors. Board members are based in the Okanagan, Lower Mainland and on Vancouver Island.

The 2021/22 DigiBC Board of Directors:
Jon Lutz, VP, Strategy & Finance, Electronic Arts (Board Chair)
Karam Bayrakal, Partner, Fasken LLP (Board Secretary)
Lance Davis, CFO, Biba Ventures // Director, Boule Management (Board Treasurer)
Sharon Taylor, COO, Animal Logic
Peter Greenwood, CFO, Blackbird Interactive
James Hursthouse, CSO, AMPD Technologies
Sam Fisher, CEO, Hyper Hippo Entertainment
Jeanne-Marie Owens, VP, Operations, Phoenix Labs
Tim Teh, Founder & CEO, Kano
Nick Facey, Lead - Industry Solutions, Unity Technologies
Sara Maseko, Director of Finance, SkyBox Labs
Sarah Nathanson, COO & General Counsel, Atomic Cartoons / Thunderbird
Alex Grimbley, Franchise Strategy Director & Executive Producer, The Coalition (Microsoft)

Full bios on each of the board members can be found here.
About DigiBC
Founded in 1998, DigiBC (previously New Media BC) is the voice of the creative technology industry in BC which includes Video Games, Interactive Media, Animation & VFX and Mixed Reality (AR/VR). Providing school-based programs to BC students, DigiBC believes the creative technology sector is the place for young people to build fascinating careers, whether as coders, artists, producers or audio engineers. DigiBC is a member-based, not-for-profit organization that provides value to its members through government relations, education programming for future talent, community events, and professional development training.
---