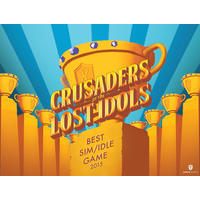 Codename Entertainment announced today that Crusaders of the Lost Idols has been named Best Sim/Idle game for the ArmorGames.com Games of the The Year.
ArmorGames' Game of the Year Awards recognizes the very best and brightest in digital entertainment both on browser and mobile from within its portfolio vast library of published games.
"To not only be nominated for an award, but to be chosen to win, is a distinction that goes beyond words. Crusaders of the Lost Idols has been, and continues to be, a passion project for all of us at Codename Entertainment. Thank you to the fans who play Crusaders and thank you to ArmorGames for this recognition. We're both honored and humbled." said Codename Entertainment CEO Eric Jordan.
Crusaders of the Lost Idols is a top rated Idle/Clicker game that has been played over 10 million times and is available on ArmorGames.com and other platforms. Fans worldwide have come to appreciate the unique formation that are unique to Crusaders in the genre. Players must utilize strategy and learn to master the art of organizing their band into the most powerful formation possible.
Find Crusaders of the Lost Idols on ArmorGames: http://armorgames.com/crusaders-of-the-lost-idols-
ABOUT CODENAME ENTERTAINMENT: Codename Entertainment was founded in 2008 in Victoria, B.C. by David Whittaker and Justin Stocks. They started making games for Facebook and evolved into making games for platforms like Kongregate.com, ArmorGames, and Steam. In 2015, the company launched Crusaders of the Lost Idols. It was awarded the Idle Game of the Year on Armor Games, is the top rated Idle Game on Kongregate.com, has over 10 million unique plays, and more than 1.1 million hours played per month on Steam.
Codename Entertainment and Crusaders of the Lost Idols are trademarks of Codename Entertainment Inc. All other products named herein are trademarks or registered trademarks of their respective companies.
---